Great Cardboard Boat Regatta
Main Content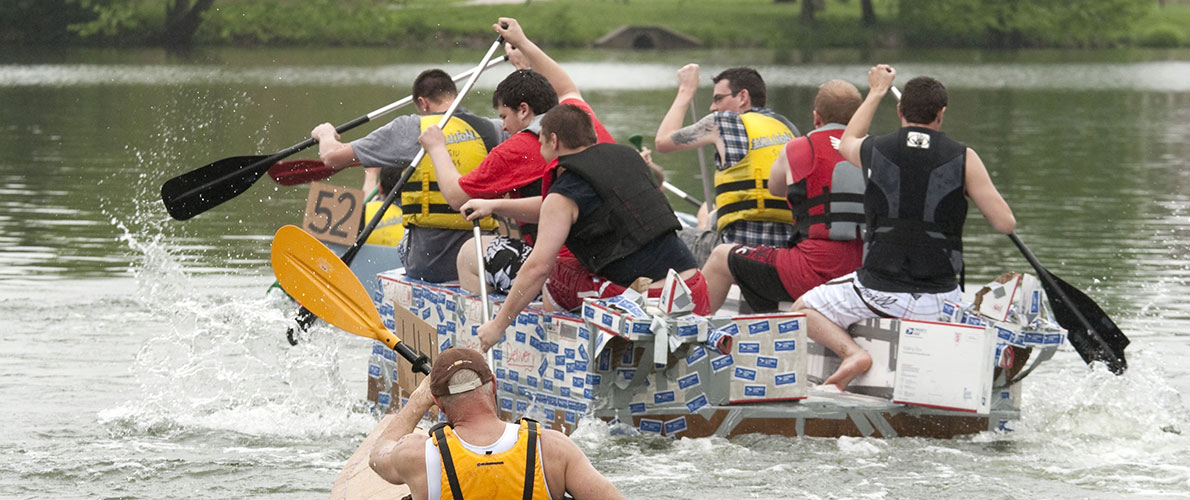 47th Annual Great Cardboard Boat Regatta
The Great Cardboard Boat Regatta originated at Southern Illinois University Carbondale in 1974.
This fun, family–friendly event continues to draw aspiring boat builders and spectators to Southern Illinois each spring to race cardboard creations (and watch them sink).
Details
Date: April 23, 2022
Time: Races begin at 1 p.m.
Location: Becker Pavilion (Boat Dock) on Campus Lake
1493 Douglas Drive, Carbondale, Illinois
Cost
Pre-registration: $15Onsite registration: $20
One commemorative Regatta t-shirt is included with each boat registration.
T-shirt size: Youth S/M/L, Adult S/M/L/XL
Additional t-shirts can be ordered for $10/each by emailing mkinsel@siu.edu.
Pre-Registration is closed! 
Onsite Registration
Onsite registration: $20
For onsite registration, an onsite registration form can also be completed and brought to check-in the day of the event.
On-site Boat Registration & Boat Inspections begins at 10 am.
RIsk Waiver
A complete and signed a risk waiver is required for each individual that will be in a boat. The risk waiver (s) may be presented to Regatta Staff upon check-in on race day. No one will be allowed to race without the completed/signed consent form.