Summer Wings Aviation Camp
Main Content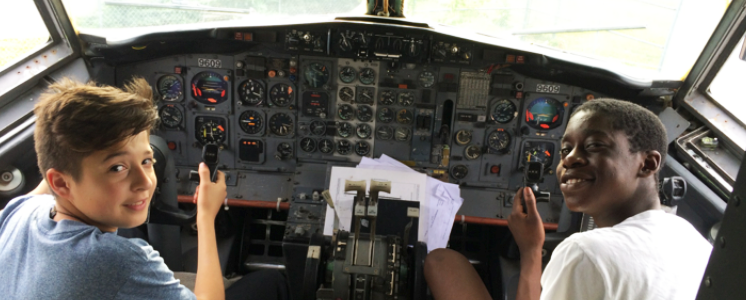 The Department of Aviation Management and Flight at SIU Carbondale offers this week-long aviation camp designed to give interested high school students an opportunity to experience the thrill of flight. Summer Wings offers those attending the chance to explore a career as a pilot by providing ground and flight training similar to the training that SIU flight students undergo in a virtual environment using flight simulator software and SIU's MyCourses online. Participants will explore aviation careers, attend virtual pilot ground school sessions, participate in flight planning exercises, and perform several virtual flights using FlightSim X (FSX) Steam edition flight simulation. Students must be completing their freshman, sophomore, junior, or senior year of high school this year to qualify. The camp is limited to 8 students. Please register early. Applications will be accepted on a first-come, first-served basis.
Software/Equipment Needs
If signing up for the camp at the $875 price, FlightSim X (FSX) Steam edition flight simulation software and Flight Simulator CH Prodcuts Yoke and Rudder Pedals will be bought and arranged for the camper upon signing up for the camp.
If signing up for the camp at the $575 price, software and equipment will need to be arranged by the camper directly per the above products.
Details
Date: June 21-26, 2020
Time: 9 a.m. – 4:30 p.m. M-F
Location: Virtual/Online Program
*Welcome on June 21 at 2 p.m.
Sample Daily Schedule

| Time | Subject |
| --- | --- |
| 8:55 | Roll Call |
| 9:00 | Review of homework |
| 9:30 | Ground School - Aerodynamics |
| 10:30 | Ground School - Maneuvers |
| 12:00 | Lunch |
| 12:55 | Roll Call |
| 1:00 | Review: Phonetic Alphabet Activity |
| 1:30 | Ground School - Flight instruments |
| 2:00 | Preflight Briefing/Checklist Use |
| 3:00 | Flight #2: Inspection, area familiarization, 4 fundamentals, and slow flight (.7 hr. each) |
| 4:00 | Post flight discussion |
| Homework | Basic cross-country planning |
Register Now!
Online Registration for Summer Wings Aviation Camp
Register by phone with a VISA, Discover, or Mastercard by calling Conference and Scheduling Services at 618/536-7751.
Fax the Summer Wings Registration form with credit card payment information to 618/453-5680.
Fees:
$875 Full Payment (includes flight simulator software and set-up) OR
$575 Full Payment (does not include flight simulator software/hardware)
NOTE: Camper must have Flight Sim Yoke and Rudder Pedals and FSX Steam edition Software loaded on a compatible computer. Online registration also requires full payment (see below).
Program Requirement
A Camp Release Form must be submitted to Conference and Scheduling Services prior to a camp in order for your child to attend.
Questions
Please call Sarah VanVooren at 618-453-3472 or send an email to svanvoo@siu.edu.  
Cancellation Policy
All requests for refunds must be submitted in writing. Your camp cost, less the $100 non-refundable deposit, will be refunded if you cancel by June 5, 2020. At any time after that date, refunds (less the $100 non-refundable deposit) are made for medical reasons only and all such requests must have a signed statement from your physician. If a medical cancellation request is not received by the first day of camp, a refund is not issued. Refunds are not given to campers who voluntarily leave camp or who are sent home for disciplinary reasons. The University reserves the right to cancel any program. In the event of cancellation, only those pre-registered will be notified.