Pathways to Saluki Medicine
Main Content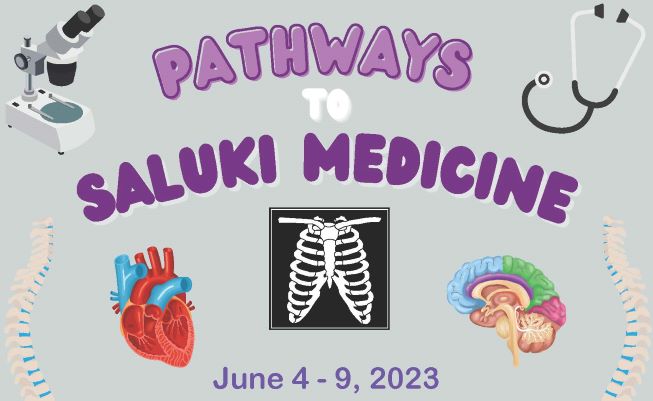 June 4-9, 2023
Pathways to Saluki Medicine is a medical based summer camp hosted by the Physiology Department at SIU School of Medicine. It is a 5-day overnight camp for any high school students interested in the medical field or biomedical science. It is designed to expose students to medicine by interacting with professionals in different fields and learning more about biomedical sciences via hands-on activities.
What Participation will Include:
Fun hands-on learning experiences in anatomy and physiology.
Get a tour of the cadaver anatomy lab.
Learn basic clinical skills.
Get CPR and first aid training.
Learn through case studies using the PBL learning style used by SIU medical and PA schools.
Form a strong knowledge base and connections that can help you in the future.
Interact with healthcare professionals, research scientists, SIU faculty, and current undergraduate, graduate, and medical students.
Visit teaching and research labs.
Learn about different careers in medicine and how to achieve them.
Have fun and unwind with nightly activities such as bowling, visits to the Rec Center, trivia, movie nights, and more!
Expectations for Participants
Participants should be students interested in medicine that will be going into the 9th, 10th, 11th, or 12th grade
Participants are expected to stay for the duration of the program. They will not be allowed to check-in late or leave early except in cases of emergency. Camp runs from 6 p.m. Sunday until 6 p.m. Friday
All participants will stay in air-conditioned residential halls on campus with one roommate
Students will be expected to attend all sessions and activities
All meals will be provided for the student during their time on campus
Registration Fee: $200
This fee includes lodging, dining on campus, and all activities.
Some scholarships may be available based on merit and financial need.
PROGRAM REQUIREMENT
The Camp Release Form is required for camp participation and must be received in our office prior to camp beginning.
Contacts
For registration information, call Conference and Scheduling Services at 618/536-7751.
For questions regarding camp, contact: