Challenge to Excellence
Main Content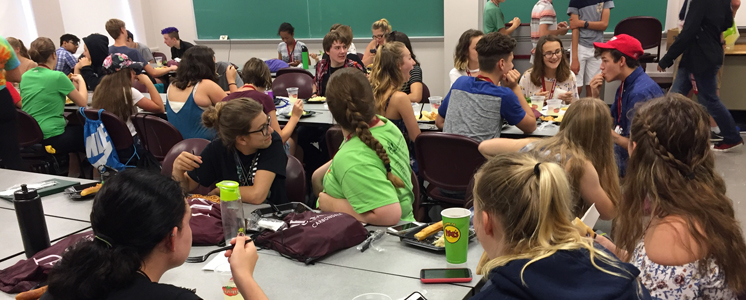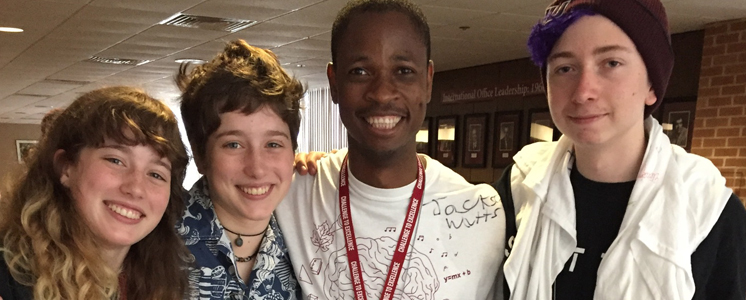 CANCELED FOR SUMMER 2020
June 14-19, 2020 Challenge to Excellence I (6th-8th grades)
June 21-26, 2020 Challenge to Excellence II (9th-11th grades)
Now in its 37th year, Challenge to Excellence is one of the most respected and long-standing summer residential programs for academically-talented students in the Midwest. The program's major goal is to provide students with opportunities to "stretch themselves" in learning experiences that promote higher level thinking skills and creativity in a variety of academic subjects, such as math, art, psychology, drama, biology and many others. Camp staff are creative teachers and counselors who are dedicated to providing safe, fun learning experiences for campers.
Many of our former campers have matriculated at our finest universities and are now teachers, doctors, engineers, journalists, computer scientists and pharmacists. One of our former Challenge to Excellence students received a Pulitzer Prize for journalism. Read what some of our campers and parents have said about the Challenge to Excellence program:
Chloe Miller, Olney, stated, "Challenge to Excellence Camp was the best camp I ever went to! I didn't know anybody when I went last summer but now I can't wait to see the friends I made again this year! We had sooo much fun."
 Chloe's Mom, Karen St. Pierre, says, "I was so happy that she was able to participate in something not only fun, but something that would help her grow educationally. She had the opportunity to learn about things she never would have gotten in school. She loved the psychology class!"
Admission Criteria and the Academic Program
The academic program consists of several courses/learning experiences designed to challenge campers in mind, body, and spirit. All activities encourage campers to use their creativity and problem-solving skills.  It is recommended that students score at the 90th percentile or above on the math, science and/or language arts sections of an achievement test. A teacher or guidance counselor's reference form is required with the application as a means of certifying that the student is qualified to attend the program. NOTE: Returning students do not have to provide reference forms.
Recreational Programs
Our staff believes that opportunities must also be provided for the students to interact with each other socially.  Structured, supervised activities might include:
SIU Recreational Center
Bowling and billiards
Capture-the-flag game
Talent show
Presentation by the drama class
Team-building at Touch of Nature Environmental Center
Community Service activities
What's Included?
Meals from Sunday to Friday
Educational supplies and materials
Limited accident medical insurance
Camp T-shirt
Recreational activities
For residential campers, the fee also includes five nights lodging at air-conditioned SIU Carbondale residence halls (Sunday-Thursday)
 Program Dates:
June 14-19, 2020 Challenge to Excellence I (entering 6th-8th grades)
June 21-26, 2020 Challenge to Excellence II (entering 9th-11th grades)
Program Check-in: 3 p.m., Schneider Hall
Program Times: Varies each day but generally 8:00 a.m. – 9:00 p.m.
Program Location: SIU Carbondale Campus
Registration Fees:
By April 30, 2020
Residential Campers:  $395
Commuter Campers:   $320
 After April 30, 2020
Residential Campers:  $445
Commuter Campers:   $370
Parents:  You also have the option of paying a $200 deposit when you register.  The balance is due by June 5, 2020 for Challenge I and June 12, 2020 for Challenge II.
Program Requirement: Camp Medical Release Form is required for camp participation and must be received in our office at least 3 business days prior to camp beginning.
Cancellation Policy: Cancellations before May 29, 2020 will be refunded, less $25.
---
Registration Options:
CANCELED Register online for Challenge to Excellence Camp I (6th-8th grades)
CANCELED Register online for Challenge to Excellence Camp II (9th-11th grades)

 

CANCELED Register by phone with a VISA, Discover or Mastercard by calling Conference and Scheduling Services at 618/536-7751.
CANCELED Fax Challenge to Excellence Registration Form with credit card information to Conference and Scheduling Services at 618/453-5680.
Questions about the camp?  Please contact ChallengetoExcellence@siu.edu 
Questions about registration?  Please contact Rebecca Dycus at rdycus@siu.edu