Architecture Camp
Main Content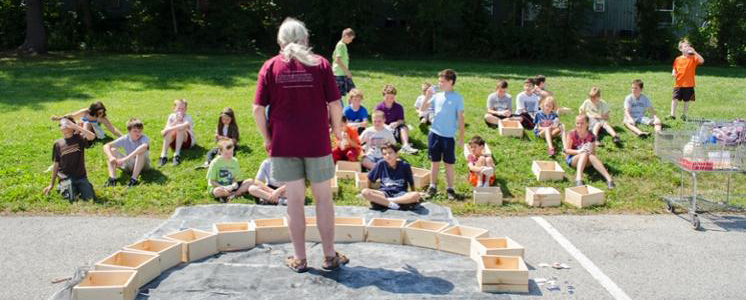 2022 Architecture Camps
Campers come from around the country and the world to build friendships, and learn about buildings and design. Our award-winning architecture camps introduce young people to the design of the built environment.
Kid Architecture Schedule
Middle School Architecture Schedule
High School Architecture Schedule
Instructor
Dr. Jon Davey is starting his 42nd year of design teaching. His focus is on young people's ideas of what design is and their development of three-dimensional spatial skills.
Buckminster Fuller Award- AIA Illinois
Illinois Connections Award for Distinction- Illinois State Board of Education
Award of Merit for Best in K-12 Architectural Education- American Architectural Foundation
Citation of Honor- Illinois Council of AIA
Presidential Award- AIA
Regional Educational Award- Construction Specification Institute
To contact Jon Davey directly call 618/453-3734 or email 
jdavey@siu.edu
Southern Illinois Chapter of the American Institute of Architecture; Precast/Prestressed Concrete Institute; SIU School of Architecture; College of Applied Sciences and Arts. In cooperation with SIU Conference and Scheduling Services.
Learn
Why do buildings stand up?
Why do buildings look the way they do?
How is a building designed, built and reused?
What do architects and interior designers do?
How and why do people define space?
Understand
Construction materials
Computers in design
The design process
The importance of the built environment
Design drawing as a problem solving tool
Activities
Explore historic architecture
Travel to St. Louis or other architectural sites (not available for 2021)
Learn about the history of architecture with slides, discussion and costumes
Discuss how the built environment affects our behavior
Engage in the design process; brainstorm and critique
Sketch, render, and build models
Check out computer graphics and computer aided design (CAD)
Visit construction sites
Try your hand at casting concrete
Join in small scale construction project
Registration Deadline:
Enrollment is first come, first served. In the past, these camps have filled up quickly, so advance registration is highly recommended. Payment must accompany registration.
Cancellation:
A refund, minus a $15 cancellation fee, will be issued upon written request received 7 business days before the beginning of each camp. At any time after that date, refunds (less the $15 non-refundable fee) are made for medical reasons only and all such requests must have a signed statement from your physician.