Southern Illinois Interprofessional Opioid Prescription Drug And Heroin Conference
Main Content
Tuesday, June 6, 2017
A workshop to provide education on the initial care, treatment and management of patients with opioid use disorder (OUD) using a multi-sector approach. Two tracks will be offered—one targeting Health care providers, and one targeting Law enforcement and court personnel to encourage dialog on best practices and challenges of treating individuals with OUD in local communities. Intended audience: physicians, nurse practitioners, physician assistants, nurses, mental health and behavioral therapists, pharmacist, dentists, policy makers, public health, law enforcement and community coalitions. Each registration includes materials, continental breakfast and lunch.
Program Time: 8:30 a.m. – 3:30 p.m.
Program Agenda
Keynote – John Temple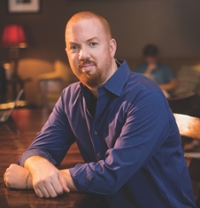 John Temple is the author of American Pain: How a Young Felon and His Ring of Doctors Unleashed America's Deadliest Drug Epidemic. American Pain was a New York Post "Favorite Book of 2015," a finalist for the Edgar Allan Poe Award in the Fact Crime category, and the INDIEFAB/Foreword Reviews Book of the Year in True Crime. Temple also wrote two previous nonfiction books: The Last Lawyer: The Fight to Save Death Row Inmates (2009) and Deadhouse: Life in a Coroner's Office (2005). The Last Lawyer won the 2010 Scribes Book Award from the American Society of Legal Writers. More information about Temple's books can be found at johntemplebooks.com. Temple is a professor of journalism in West Virginia University's Reed College of Media.
---
CME and other Continuing education credit will be available. Call 217-545 7711 if you have specific questions.
This conference is funded by the Illinois Area Health Education Centers Network Program, grant No. U77HP26847 from the Health Resources and Services Administration, and administered by the National Center for Rural Health Professions at the University of Illinois at Chicago, College of Medicine—Rockford.
---
Program Location:
Mt. Vernon Hotel and Event Center (formerly the Holiday Inn)
222 Potomac Blvd.
Mt. Vernon, IL
Fees:
$30
$75 - CME and Pharmacists

Registration fee includes materials, refreshments and lunch.
Registration Options:
By phone with a VISA, Mastercard or Discover by calling 217/545-7711