Outdoors at Touch of Nature
Main Content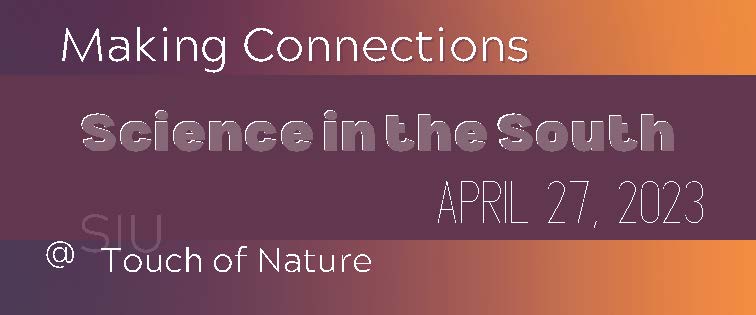 27th Annual Science in the South Conference 
April 27, 2023
Touch of Nature
Making Connections is the theme for this year's Science in the South Conference. Our goal is to provide opportunities for K-12 educators to connect and reconnect with other educators and area experts to share ideas, learn about current research and renew enthusiasm.
Whether you are a first-year teacher looking for new ideas or a veteran teacher looking for ways to energize your classroom, the Science in the South Conference provides ample opportunities to connect with other educators, explore ways to share science information, earn PD credits, and to just have a great time enjoying SIU's Touch of Nature Outdoor Education Center!  Earn up to 4.0 Professional Development Hours (PDHs) for attending and participating. 
Featured speaker: Dr. Robert H. Mohlenbrock
2023 Science in the South Program
---
OPTIONAL ACTIVITIES
Check out the Wednesday night optional activities you can sign up for Owl Prowl OR Moonlight Paddle.
Owl Prowl
Moonlight Paddle
Explore Touch of Nature at night and join us as we search for our resident owls. Your prowl will begin with learning about these amazing nocturnal predators, their habitats, behaviors, and language. We will continue with a night hike into the forest where we will call out to find these skillful birds. For ages 10 and up (must have ability to stand still and be super quiet!) This program will be 2 hours long. 
FEE: $20
Call for Presentations
K-12 educators are encouraged to bring their best practice to engage other teachers from across Illinois. All educators are invited to present live, a lab or hybrid teaching method/techniques, on any science-related topics that would be of interest to K-12 science teachers.  Presenters will attend at a reduced fee.  Email a completed proposal form and submit to jackiew@siu.edu.
Proposals are due by March 31, 2023, notification of acceptance will be sent by April 7, after a review by the conference committee for acceptance. Please review the NSTA Minimum Safety Guidelines.
Approved presenters will be sent a registration after approval is sent out.  Please do not register until you have been notified of your presentation status. 
Exhibitors 
Join Science in the South, at Touch of Nature, as an exhibitor, presenter, or sponsor! Meet and interact with interested K-12 professionals from our region. Highly visible indoor and outdoor spaces available. Continental breakfast, lunch for two, and wine and cheese event included.
If you would also like to present, please complete a Call for Presentations form. You will NOT need to pay an additional fee for presenting.
Event Support
Sponsorship of the event will be available, if you wish to sponsor a portion of the event, please contact Jackie Welch at 618-536-7751 or jackiew@siu.edu.