Crossroads Eclipse 2017 Research Workshop (CERW 2017)
Main Content
August 19–22, 2017
CERW 2017 is being established to facilitate and enrich research opportunities in solar science and citizen science. SIU Carbondale has established research observation areas at the SIU Farms Dark Site and the main campus that will be available to workshop participants. Participants will be required to present on their research project and are requested to submit brief abstracts for either talks and/or poster presentations. Selected presentations will be made at SIU Carbondale on August 19, 2017. Posters will additionally be displayed at the Crossroads Astronomy Science and Technology Expo to be held August 20–21 at SIU Carbondale. Successful applicants will be given access to research space for eclipse observations either on the SIUC main campus, or at the SIUC Farms Dark Site. Space is limited.
Lodging: Participants will be responsible for their own lodging arrangements.
SIU Schneider Hall has a limited number of suites available from Saturday, August 19 thru Tuesday, August 22. More info online.
Limited accommodations are available at SIU Touch of Nature. Contact Touch of Nature Eclipse coordinator, Kayla Cole for details. See additional details for camping options below.
SIU Dark Site
Telescope pads during construction. Fall 2016.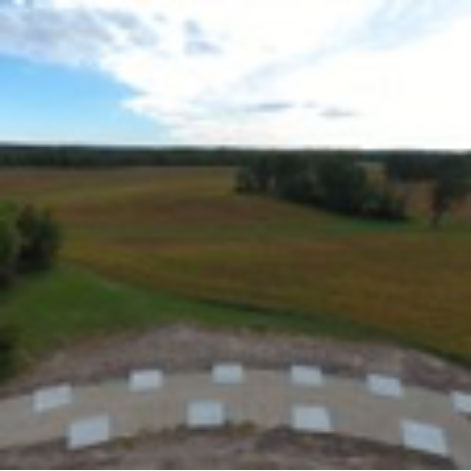 The SIU Farms dark site consists of ten telescope pads, open grass areas, and a parking area. Additionally, there is a small area that may be used for camping by the workshop participants. There are no services available at the site. A single common use open wall tent will be setup at the site to provide limited shade and shelter to teams along with a hospitality trailer. Teams wanting to stay on site will be allowed to primitive camp, or arrange for their own RV accommodations. Porta potties will be provided on site.
The pads are oriented in such a way that they all have a clear view of totality and do not block one another. Pads are 10' X 10' concrete and are separated from one another to provide vibration isolation. Teams may setup their own tents on the pads provided they do not block other team's observations.
SIU Farms Dark Site Location
Image courtesy of Xavier Jubier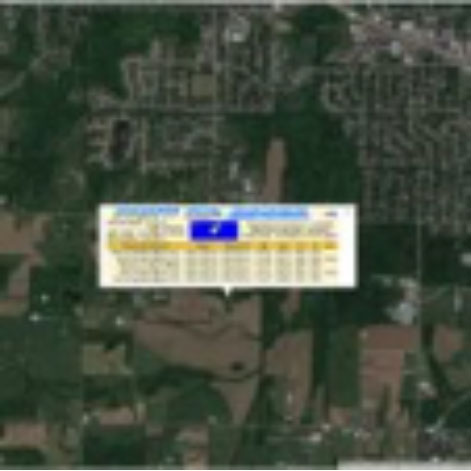 The site is located in the center of a 1 mile section of SIU farm fields and is far away from any roadways to minimize the chance of passing vehicles causing vibrations that would affect observations. The site is secluded from the general public to allow for setup of telescopes in advance and uninterrupted research observations. Research teams at the site will need to provide for their own power utilizing batteries or portable generators.
Schedule of Events:
August 18, 2017: Advanced access to observation sites for equipment setup and calibration.
August 19, 2017: Talks presented at the SIU Student Center Auditorium. Posters presented outside the Student Center Auditorium. *Free and open to the public
August 20, 2017: Posters on display at Expo.*Free and open to the public
August 21, 2017: Eclipse research observations.
August 22, 2017: Dark site closed.
Participant Registration Fees:
$50 per person (A limited number of fee waivers are available)
Registration Deadline is August 14, 2017 • Full Payment must be received by this date
Registration Options:
Registrations will be accepted by phone, fax or email. Registrations will be approved by workshop coordinator and an email will be sent to participants when registration has been processed.
To register by phone with a VISA, Discover, or MasterCard call Conference and Scheduling Services at 618/536-7751.
Fax registration form with credit card payment information to 618/453-5680 or email.