Radio-TV News Camp
Main Content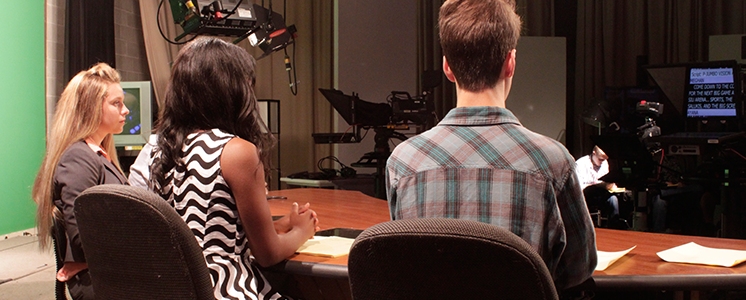 This camp has been cancelled.
Ever wondered what it is like to be a news broadcaster on TV or radio? Here's your chance! High school students from around the nation are invited to participate in a week-long summer camp of fun and learning about life in a real television and radio newsrooms. During the week you will learn to write stories, conduct interviews, operate the news camera, mics, and audio recorders, edit your own stories, and even appear on camera in the working television studios of WSIU-TV.
The annual Radio-TV News Camp at Southern Illinois University also gives students a chance to sample what college life will be like, participating in classrooms, living in dorms, meeting current college students and learning from individuals who have worked professionally in broadcasting. At the end of the week campers get together to do their own taped newscast featuring their stories. All participants will receive a copy of the newscast.
This camp is a great opportunity for students who wish to explore a career in news broadcasting or television/radio production. All expenses including housing, meals, supplies, and instruction are included in the camp registration fee. The camp is limited to 15 participants and is for students entering high school grades 9-12.
---
Program Date: Sunday, June 25, 2017 – Friday, June 30, 2017
Program Check-in: 4–5 p.m., Schneider Hall, East Campus Housing
Program Check-out: 1 p.m., Communications Building

Program Location: Southern Illinois University, Carbondale, IL
Registration Fee: $150 (deadline of June 14)

Program Requirements: Signed Conduct Policy and 2017 Academic Camp Medical Release Form
Conduct Policy: You and your parent/guardian are required to sign a Conduct Policy prior to the start of the camp. Our recommendation is that all those concerned review the policy together before signing.
Medical Release Form: The 2017 Academic Camp Medical Release Form is also required for camp participation. The form must be submitted to our office at least seven (7) business days prior to camp beginning.
Refund Policy: A refund, minus a $20 handling fee will be issued upon a written request received by June 14, 2017. The University reserves the right to cancel any program. In the event of cancellation, only those pre-registered will be notified.
---
Registration Options:
Register online
Register by phone with a VISA, Discover or Mastercard by calling  Conference and Scheduling Services at 618/536-7751
Fax the Radio-TV News Camp Registration form with credit card information to 618/453-5680
Any Questions?
Please call Coordinator Sarah VanVooren at 618/453-3472 or send an email.